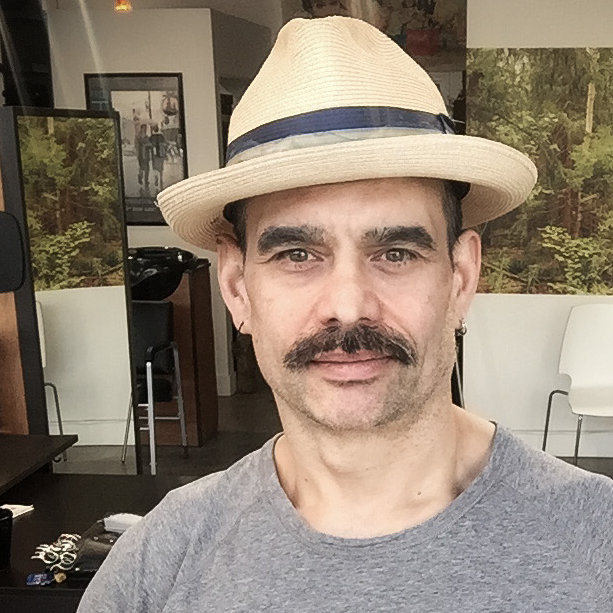 Welcome to ScissorHex Hair – where fixing hair problems is our passion! As an experienced and outgoing hairdresser, Jonah specializes in correcting haircuts and colour with over 20 years of international experience in the hair and fashion industry.
With Redken's Principle-Based Design and Vidal Sassoon training, Jonah creates personalized looks tailored to your unique needs. Whether you need a consultation, a free fringe trim, or a total makeover, Jonah has you covered.
Contact Jonah electronically, or in person to book your appointment and experience his effervescent personality and stunning hair designs. Choose Jonah for all your hair needs and discover why he's considered one of the best hairdresser in the Pacific North West.
---
ScissorHex is a gender-neutral business that offers haircuts, hair colouring, and styling services. Our pricing is based on the length of your hair, not your gender. Come in for a consultation to discuss your hair colour and pricing.
It's about your hair that's what you came to us about. Our prices are based on the length of your hair when you walk in through the salon doors.
Haircuts
Choose from our long, medium, or short haircuts, each including a full service of shampoo and blow dry.
Long
Perimeter length at collar bone or longer
$85.00
Medium
Perimeter length at earlobe to shoulder length
$70.00
Short
Perimeter length shorter than at earlobe
$55.00
---
Add-Ons
Enhance your style with any of our add-on services
Curling iron or flat iron curls for $25
Conditioning treatment for $15
Flatiron smoothing for $25
Curling iron or flat iron curls for $25
---
Hair Color
We recommend consultations before your hair colour to confirm the technique and pricing.
---
Hair Styling
Choose from our blowout style or fashion style/updo to complete your look.
Blowout style ($65, timing <=60 min): Your hair is shampooed, blow-dried, and styled with the perfect hair care products, leaving you with a beautiful style that compliments your look.
Fashion style/updo ($95 and up, timing based on consultation): Whether it's your big day or a special event, let Jonah help create a chic and sophisticated style for you. We highly recommend a practice consultation session before booking your important appointments.
---
Complimentary Fringe Trim
ScissorHex is dedicated to helping you maintain your new cut and style. Come in for your complimentary fringe trim every couple of weeks to maintain your new bangs or fringe.
---
All prices exclusive of tax.